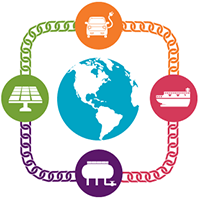 A biweekly update on blockchain technology applications, distributed energy resources, and other innovative technologies in the energy sector.
By: Buck B. Endemann, Benjamin L. Tejblum, Daniel S. Cohen, Toks A. Arowojolu, Olivia B. Mora, Abraham F. Johns
K&L Gates is pleased to announce that the Blockchain Energizer has returned from a period of rest and reflection! Recognizing the variety of important emerging technological innovations and structural changes affecting energy markets, we have decided to expand our focus beyond Blockchain to include distributed energy resources, microgrids, and other emerging energy trends — all the technological innovations driving toward a more efficient, more reliable energy system.
To reflect our broader scope, the Blockchain Energizer will be now known as The Energizer. We have expanded the team to include additional K&L Gates attorneys tracking these important developments. The Energizer will still be published about twice a month and the subscription is the same. We appreciate your support and have enjoyed hearing from the many readers who rely on the Energizer for a periodic dose of energy tech! We look forward to continuing to provide timely coverage of increasingly important developments.
To subscribe to The Energizer, please click here.
IN THIS ISSUE:
Growing Blockchain Interest in the Oil and Gas Industry.
California Mudslides Prompt Push for Montecito Community Microgrid Initiative.
New Rules in EV Charging in Pennsylvania.
To view more information on these topics in Volume 40 of The Energizer, click here.