By: Buck B. Endemann, Daniel S. Cohen, Molly K. Barker, Olivia B. Mora, Abraham F. Johns, Natalie J. Reid, Matthew P. Clark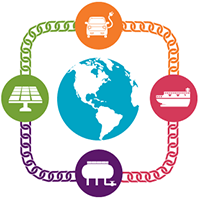 A biweekly update on blockchain technology applications, distributed energy resources, and other innovative technologies in the energy sector.
There is a lot of buzz around blockchain technology, distributed energy resources ("DERs"), microgrids, and other technological innovations in the energy industry. As these innovations develop, energy markets will undergo substantial changes to which consumer and industry participants alike will need to adapt and leverage. Every other week, K&L Gates' The Energizer will highlight emerging issues or stories relating to the use of blockchain technology, DERs, and other innovations driving the energy industry forward. To subscribe to The Energizer newsletter, please click here.
IN THIS ISSUE:
Researchers Create Nanowire Device That Can Generate Electricity "Out of Thin Air"
Shell's Offshore Wind Farm Wades into Deep Waters for the World's Largest Green Hydrogen Project
EWF Completes Joint Test of Renewables Blockchain Market in Japan
University of British Columbia Engineers Combine Microgrids and Low-Power Systems to Reduce Blackouts
Think Tank Envisions Artificial Intelligence Solutions to Combat Climate Change
To view more information on these topics in Volume 62 of The Energizer, click here.