K&L Gates Blockchain Energizer – Volume 39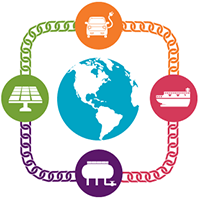 There is a lot of buzz around blockchain technology and its potential to revolutionize a wide range of industries from finance and health care to real estate and supply chain management. Many institutions and companies are forming partnerships to explore how blockchain ledgers and smart contracts can be deployed to manage and share data, create transactional efficiencies, and reduce costs.
Across the energy industry, market participants have formed consortiums, and launched pilot programs testing blockchain-based use cases that could transform energy markets. State regulators, too, are engaging the industry on blockchain's potential. Every other week, the K&L Gates' Blockchain Energizer will highlight emerging issues or stories relating to the use of blockchain technology in the energy space. To subscribe to the Blockchain Energizer newsletter, please click here.
IN THIS ISSUE
KEPCO Plans to Develop an "Open Energy Community" via a Blockchain-based "Future Micro Grid."
Shell and Other Oil Companies Test Blockchain-based Crude Oil Trading on Vakt.
Energy Web Foundation Collaborates With Wirepas and Siemens.
To view more information on theses topics in Volume 39 of the Blockchain Energizer, click here.