The Energizer – Volume 58
By: Buck B. Endemann, Daniel S. Cohen, Olivia B. Mora, Abraham F. Johns, Natalie J. Reid, Matthew P. Clark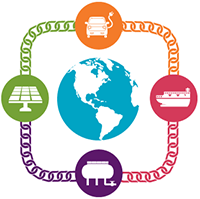 A biweekly update on blockchain technology applications, distributed energy resources, and other innovative technologies in the energy sector.
There is a lot of buzz around blockchain technology, distributed energy resources ("DERs"), microgrids, and other technological innovations in the energy industry. As these innovations develop, energy markets will undergo substantial changes to which consumer and industry participants alike will need to adapt and leverage. Every other week, K&L Gates' The Energizer will highlight emerging issues or stories relating to the use of blockchain technology, DERs, and other innovations driving the energy industry forward.
For a quick read on the technical basics of blockchain that every energy lawyer should know, see Daniel S. Cohen's article in Business Law Today, please click here.
IN THIS ISSUE:
New Jersey Poised to Increase Incentives for Electric Vehicles
OOC Oil & Gas Blockchain Consortium Tests Authorization for Expenditure Balloting System
Monash University Reports Breakthrough in the Production of Lithium-Sulfur Batteries
California Public Utility Commission Issues Proposal to Incentivize Energy Storage
To view more information on these topics in Volume 58 of The Energizer, click here.