The Energizer – Volume 51
A biweekly update on blockchain technology applications, distributed energy resources, and other innovative technologies in the energy sector.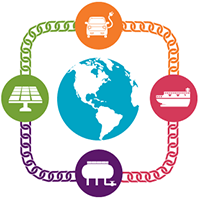 By Buck B. Endemann, Benjamin L. Tejblum, Daniel S. Cohen, Toks A. Arowojolu, Olivia B. Mora, and Abraham F. Johns
There is a lot of buzz around blockchain technology, distributed energy resources ("DERs"), microgrids, and other technological innovations in the energy industry. As these innovations develop, energy markets will undergo substantial changes to which consumer and industry participants alike will need to adapt and leverage. Every other week, K&L Gates' The Energizer will highlight emerging issues or stories relating to the use of blockchain technology, DERs, and other innovations driving the energy industry forward. To subscribe to the Energizer, please click here.
IN THIS ISSUE:
Softbank Vision Fund Invests $110 Million in Energy Vault's Gravity Storage Plants.
Omega Grid Trial will Use Blockchain to Connect Electric Vehicles and Solar Generators.
Study Describes How to Effectively Move Existing Energy system onto a Blockchain Platform.
Hawaiian Electric Seeks Bids for 900MW of Renewable Energy and Energy Storage Projects.
To view more information on these topics in Volume 51 of The Energizer, click here.