By: Buck B. Endemann, Daniel S. Cohen, Molly K. Barker, Olivia B. Mora, Abraham F. Johns, Natalie J. Reid, Matthew P. Clark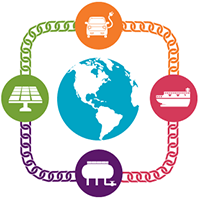 A biweekly update on blockchain technology applications, distributed energy resources, and other innovative technologies in the energy sector.
There is a lot of buzz around blockchain technology, distributed energy resources ("DERs"), microgrids, and other technological innovations in the energy industry. As these innovations develop, energy markets will undergo substantial changes to which consumer and industry participants alike will need to adapt and leverage. Every other week, K&L Gates' The Energizer will highlight emerging issues or stories relating to the use of blockchain technology, DERs, and other innovations driving the energy industry forward. To subscribe to The Energizer newsletter, please click here.
IN THIS ISSUE:
Researchers Develop New Technique to Extract Alternative Fuel Source from Biomass
Southern California Edison Announces Historic Energy Storage Procurements
Australian Researchers Achieve Breakthrough in Solar Window Concept
Researchers Develop Self-forming Membrane to Improve Carbon Capture
Several European TSOs Join to Launch a Cross-border, Blockchain-based Energy Platform
To view more information on these topics in Volume 65 of The Energizer, CLICK HERE.