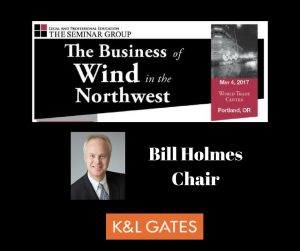 How is big business putting wind to work? Why does it make financial sense? This event, presented by The Seminar Group, will explore answers to these questions and discuss the status of wind power development in the west, wind power siting, utility perspectives of renewables, Cal ISO expansion, and equity financial structures and tax considerations.
Portland partner Bill Holmes is serving as Program Chair for this progrm Thursday, May 4 at the World Trade Center in Portland, Oregon.
In addition, Seattle partner David Benson will serve as a faculty member for the program.
Bill will present on the Status of Wind Power Development in the West and David will speak on a panel covering Equity, Financial Structures and Tax Considerations.
To learn more about this event and register, click here.