A biweekly update on blockchain technology applications, distributed energy resources, and other innovative technologies in the energy sector.
By: Buck B. Endemann, Benjamin L. Tejblum, Daniel S. Cohen, Toks A. Arowojolu, Olivia B. Mora, Abraham F. Johns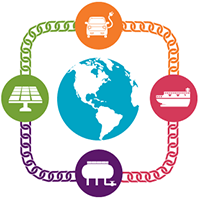 There is a lot of buzz around blockchain technology, distributed energy resources ("DERs"), microgrids, and other technological innovations in the energy industry. As these innovations develop, energy markets will undergo substantial changes to which consumer and industry participants alike will need to adapt and leverage. Every other week, K&L Gates' The Energizer will highlight emerging issues or stories relating to the use of blockchain technology, DERs, and other innovations driving the energy industry forward. To subscribe to the Energizer, please click here.
IN THIS ISSUE
United States to Become the Largest Grid-Connected Energy Storage Market in the World
Utah Storage Project to Be Largest Renewable Storage Project in the United States
Texas Legislature Passes Three Grid-Protection Bills
Lyft Offers EV Drivers Free Charging In Portland
Toyota Explores Blockchain P2P Trading in Japan
To view more information on these topics in Volume 46, click here.