The Energizer – Volume 45
A biweekly update on blockchain technology applications, distributed energy resources, and other innovative technologies in the energy sector.
By: Buck B. Endemann, Benjamin L. Tejblum, Daniel S. Cohen, Toks A. Arowojolu, Olivia B. Mora, Abraham F. Johns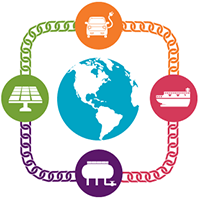 There is a lot of buzz around blockchain technology, distributed energy resources ("DERs"), microgrids, and other technological innovations in the energy industry. As these innovations develop, energy markets will undergo substantial changes to which consumer and industry participants alike will need to adapt and leverage. Every other week, K&L Gates' The Energizer will highlight emerging issues or stories relating to the use of blockchain technology, DERs, and other innovations driving the energy industry forward. To subscribe to the Energizer, please click here.
IN THIS ISSUE
CAISO Adds Flow Battery Technology to Grid.
ENGIE North America Acquires DER Startup Genbright, LLC.
FERC Denies Requests to Rehear Order 841.
NY Public Service Commission Continues Enhancing Distributed Energy Resources Mechanisms.
ABB and Evolvere Initiate Blockchain Pilot Program for Energy Sector.
To view more information on these topics in Volume 45 of The Energizer, click here.