The Energizer – Volume 42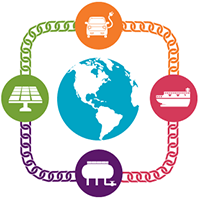 A biweekly update on blockchain technology applications, distributed energy resources, and other innovative technologies in the energy sector.
By: Buck B. Endemann, Benjamin L. Tejblum, Daniel S. Cohen, Toks A. Arowojolu, Olivia B. Mora, Abraham F. Johns
There is a lot of buzz around blockchain technology, distributed energy resources ("DERs"), microgrids, and other technological innovations in the energy industry. As these innovations develop, energy markets will undergo substantial changes to which consumer and industry participants alike will need to adapt and leverage. Every other week, K&L Gates' The Energizer will highlight emerging issues or stories relating to the use of blockchain technology, DERs, and other innovations driving the energy industry forward.
To subscribe to The Energizer, please click here.
IN THIS ISSUE
Gazprom Develops Blockchain Platform Prototype.
Wien Energie Tests Blockchain for EV Charging Stations and Smart Fridges.
Federal Bill to Extend Tax Credits to Energy Storage Introduced.
Ameren and Opus One Solutions Announce New Blockchain Project.
Pilot Program Tests Blockchain to Improve Cybersecurity of Electricity Infrastructure.
To view more information on these topics in Volume 42 of The Energizer, click here.