The Energizer – Volume 56
By: Buck B. Endemann, Daniel S. Cohen, Toks A. Arowojolu, Olivia B. Mora, Abraham F. Johns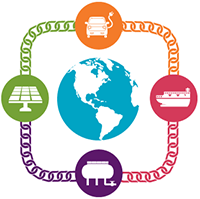 A biweekly update on blockchain technology applications, distributed energy resources, and other innovative technologies in the energy sector.
There is a lot of buzz around blockchain technology, distributed energy resources ("DERs"), microgrids, and other technological innovations in the energy industry. As these innovations develop, energy markets will undergo substantial changes to which consumer and industry participants alike will need to adapt and leverage. Every other week, K&L Gates' The Energizer will highlight emerging issues or stories relating to the use of blockchain technology, DERs, and other innovations driving the energy industry forward. To subscribe to The Energizer, please click here.
IN THIS ISSUE
EnergyX Develops New Lithium Extraction Process Using Membrane Nanotechnology
Berkeley Lab Studies Improved Membrane Technology for Flow Batteries
Stem and NEC Energy Solution Partnership Aimed at Enhancing Solar + Storage Projects
DHS Awards $180k to Blockchain Technology Developer to Track Cross-Border Oil Imports
Power Ledger Inks Deal to Provide Blockchain Technology to Australian Energy Retailer
To view more information on these topics in Volume 56 of The Energizer, click here.